A Complete Buyer's Guide On Fire Pits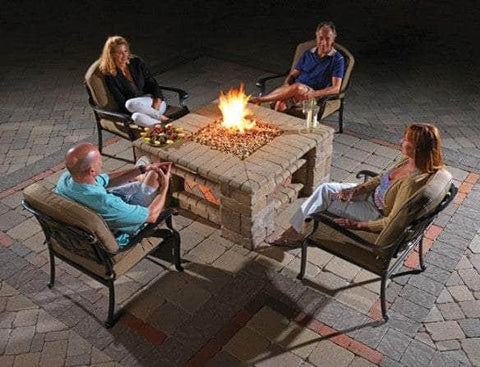 Who does not love to sit around a cozy, and toasty campfire? It sure gives comfort and a warm ambiance to the environment.
Getting a fire pit as part of your landscape can help give you the feeling of having a campfire right at your backyard where family, friends, and guests can gather for discussion, relaxation, and entertainment.
Talking about the campfire-like atmosphere gotten from fire pit, the sense of liveliness and excitement it gives, the ignition of creativity and discussion, or the enthralled feeling one gets by staring at it, all these attracts people to fire pits.
Also, in contrast to other outdoor heaters, fire pits evenly circulate warmth to the environment and if properly positioned, can be enjoyed from the interior part of the house as well.
Although, fire pits come in different sizes, designs, and shapes, therefore, whenever you need to buy a fire pit, ensure to get the one that fits with your outdoor decoration as well as taking note of other important factors you must consider before buying one.
1.TYPE OF FIRE PIT DESIGNS
Fire pits comes in various designs, and it is important to known the various designs to help you make the best choice of fire pit for your space.
a.Fire Tables or Mantles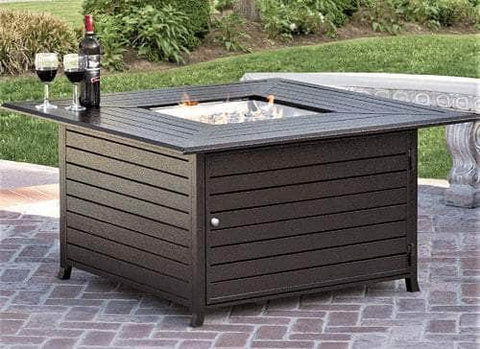 Fig. 1: Fire table or mantle
A fire pit table is more like an outdoor table that has a controlled campfire right in the middle.
They come in different styles and sizes and can be used to kick up your feet, they have enough space to place snacks, drinks or other items around the pit in a safe distance from the flame.
Although, fire pit tables are bigger than other fire pit designs and are not easy to move, the table can be used for eating and drinking while enjoying the warmth.
Firepit tables are almost always fueled by propane, as a wood-burning table would be a fire hazard.
b.Fire Bowls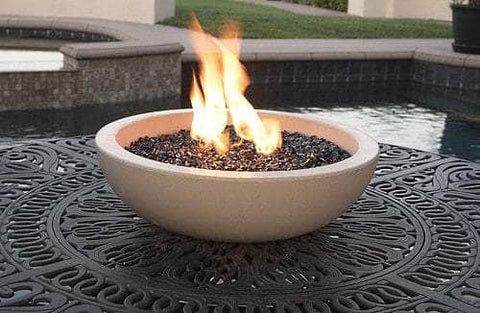 Fig. 2: A Fire bowl
Fire bowls come in various sizes, styles, and materials. They can produce a considerable amount of flame to serve the environment.
The fire bowl has a big container that holds the logs – for the wood-burning unit, or the glass beads – for gas-powered units.
They can be placed on the ground or can be used to elevate one's legs. They are quite easy to clean.
Unlike fire tables, fire bowls are highly portable and can be moved across the yard or patio. Due to its portability, it can be kept safe when the weather isn't favorable, this ensures its longevity.
Fire bowls often use propane or natural gas as a fuel source. Although, there are wood-burning fire bowls, it requires close monitoring to avoid any form of hazard.
c.Fire Rings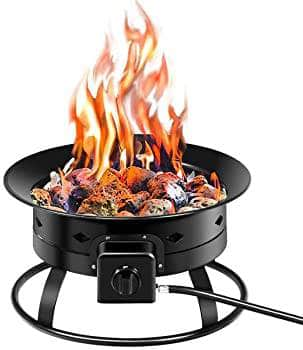 Fig. 3: A fire ring
When getting a fire pit, and you want to have the feeling of using a traditional campfire, then you can consider buying a fire ring.
Fire rings are lightweight and can be moved easily. They have round pits, commonly made of metal.
They are shorter when compared to the fire table, therefore, they are placed directly on the ground.
Fire rings are available with and without bottom bowls. Without the bowls, they are meant to curb the campfire that is built on the ground. They prevent the fire from spreading, reduce accidental access by kids, and protect the users from embers.
Whereas fire rings with bowls are used as inserts for large fire tables or they can be used on their own.
d.Fire Columns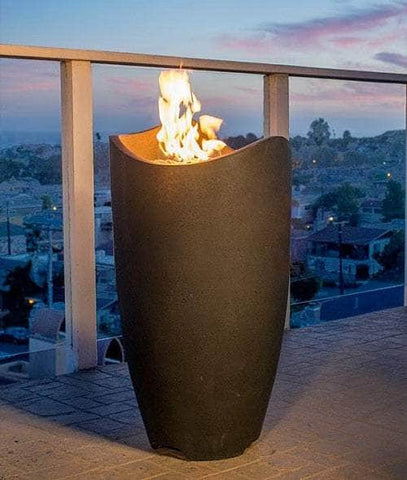 Fig. 4: A Fire column
The fire column is more like an upgrade to a traditional campfire. They are elegant, unique, and have a sleek appearance.
Fire columns are taller and are usually slim, which is suitable for a smaller yard or patio.
The exterior part of fire columns is commonly made with metal, stone, or wood while the interior part is always made of metal.
They at times have fire bowls at the top, making the fire look as though it's coming directly from the upper part of the column – just as a grand torch.
Fire columns often use natural gas or propane as a fuel source. They also often have side stones.
e.Chiminea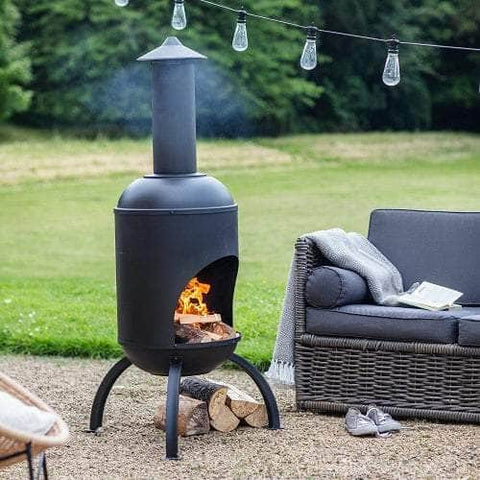 Fig. 5: A fire chiminea
Chiminea is the Spanish word for Chimney. They are usually used in Mexico and some southwest states.
Chiminea is traditionally made from clay and is used for cooking and heating homes but they are currently being made from modern materials for the same purpose.
While using this fire feature, you need not worry about smoke in your eyes because it has a tall pipe that enables smoke to move upwards whereas the heat comes from the front, i.e. it has a front-loading fireplace.
Due to these features, it is considered as one of the safest options available and it is slowly growing in popularity.
Chiminea uses wood-burning as a fuel source and can also use propane and gas as well.
f.Pagoda and Fireplace designs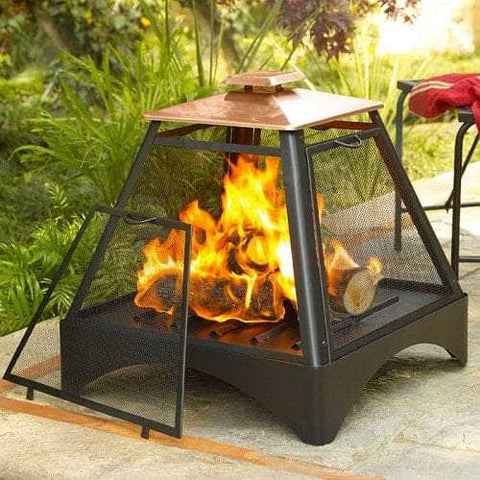 Fig. 6: A fire Pagoda
The fire pagoda has a high platform where the fire is being built, a protective roof, as well as a screened wall that prevents the users from embers.
Fire pagoda and fireplace designs are quite portable and the features are prettifying.
It has a shallow pit and a small metal gazebo.
2.TYPES OF FIRE PIT MATERIALS TO CONSIDER
Depending on what your choice is, fire pits are also made of different materials to suit individual's preference.
a.Bronze or Copper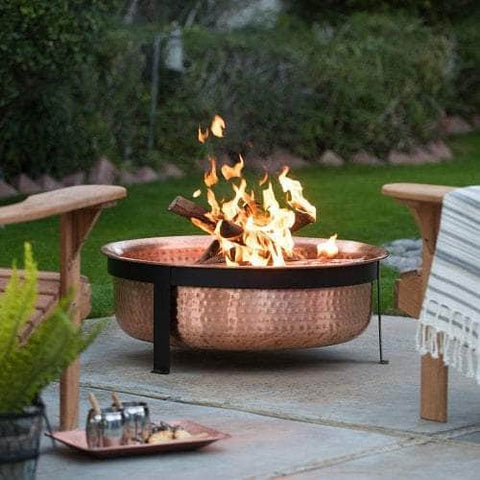 Fig. 7: A Bronze/Copper fire pit
One of the most sophisticated materials for an outdoor fire pit is a copper design.
Copper is a rust-resistant metal that increases warmth on its own even without a fire burning. Copper has a high melting point, therefore, it will be extremely durable and has higher longevity.
After exposure to outdoor air over some time, most bronze/copper fire pit develops a nice, attractive patina with a unique orange-brown coloration with a natural oxidation process which gives a pleasing appearance to the outdoor space.
A copper fire pit has to be cleaned frequently in other to retain its warmth and shining look. They are available in diverse shapes and are more expensive.
b.Stone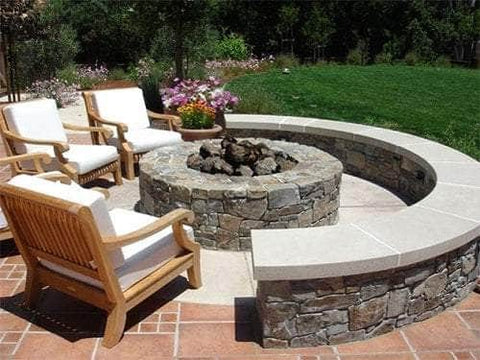 Fig. 8: A Stone-made fire pit
Stone is a common and popular material used for fire pits because a lot of fire pits often have either stone or masonry detailing.
Stone fire pits are quite heavy, therefore, they cannot be moved around the patio or yard.
It is easy to clean a stone fire pit because it is rust-resistant unlike some metals, but if exposed to extreme temperature, it could crack.
Choosing a fire pit made of stone could be fun in decorating your yard with architectural details if you have a stone detailing at your possession.
c.Cast Iron
Fig. 9: Cast iron fire pit
Cast iron is a heavy, solid metal that spreads heat efficiently. They are a good conductor of heat.
Due to its heaviness, they are difficult to be moved and also difficult to knock over, which is quite safe.
Cast iron fire pit are strongly and solidly built, they are rust-resistant and are ideal for cooking.
They are quite affordable and are available in a bowl and bucket shape.
In comparison, the bucket shape has a deeper fuel source area while the bowl shape has a shallow area. And unlike the bucket shape, the bowl shape naturally has a top metal screen.
Cast iron fire pit could be the ideal choice if you prefer to leave your fire pit in a particular place because it has a rustic look.
d.Steel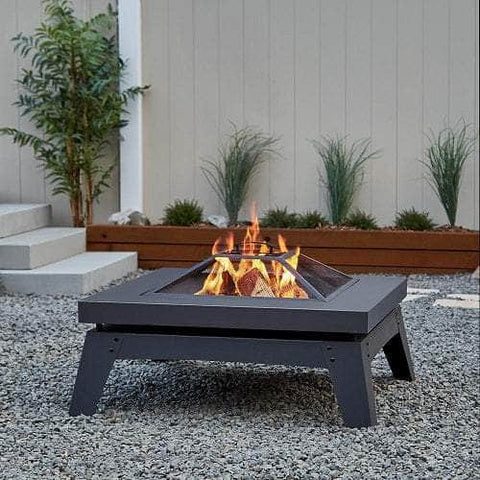 Fig. 10: Steel fire pit
Steel is a metal that is easy to mold and painted to give different looks. These features enable steel fire pits to come in diverse shapes.
Steel fire pits are durable, portable, and lightweight, therefore, it is easy to move around the patio if you are interested in a portable fire pit.
They come in a sleek and modern style which makes it more expensive than other fire pit materials.
The best form of a steel fire pit to get is the powder-coated steel fire pits because they are resistant to weather, rust, or corrosion from exposure to chemicals.
e.Aluminum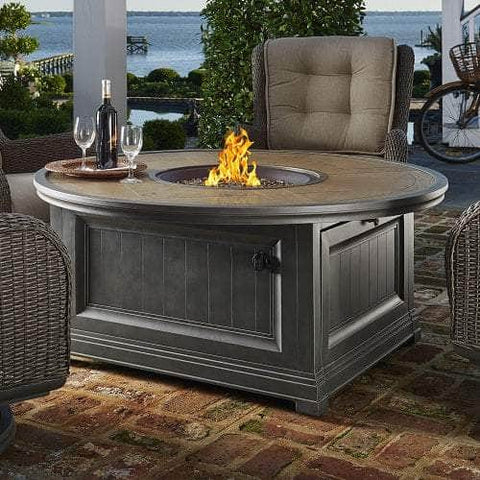 Fig. 11: Aluminum-made fire pit
Regarded as the first material used in making modern outdoor furniture, aluminum is naturally used due to its relative lightweight and resiliency.
Aluminum is one of the common materials for outdoor fire pits because they are affordable, durable, portable, easy to move.
They require little maintenance and are resistant to rust and corrosion.
Aluminum is heat conductive materials that can last for many years, making it the ideal material for the construction of a fire pit.
f.Glass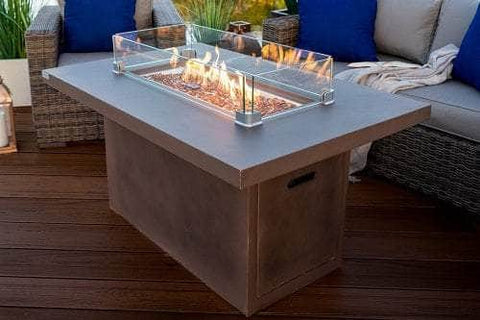 Fig. 12: Glass fire pit
A high tempered glass is melted in other to eradicate any form of bubbles or chemicals. They are then allowed to cool and tumbled to ease the removal of hard edges.
This gives a clear, reflective pebble which gives a recognizable different look to glass fire pits.
A glass fire pit can withstand a high temperature without burning or changing color. It is very stylish and whenever the fire pit is on, it keeps the environment consistently warm.
g.Poly-resin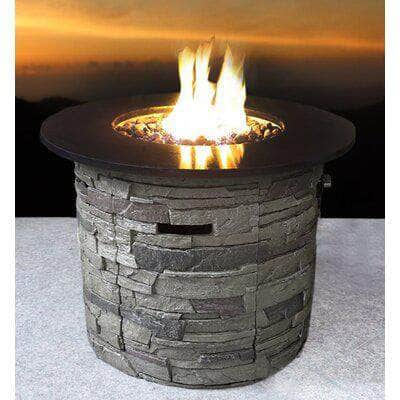 Fig. 13: Poly-resin fire pit
Poly-resin fire pits are made in resemblance to the aesthetic nature of stone fire pits.
They are sturdy, lightweight, and they require low maintenance.
3.FIRE PIT FUEL SOURCE TO CONSIDER
When considering to buy a fire pit, consider your fuel source is also another important factor to consider for the best experience using fire pits.
a. Wood
Burning wood is the basic method of creating warmth and light outdoor. It is cost-effective, natural, and brings a longing affection of warmth and glow in a campfire.
The not so good part of a wood fire is the difficulty in starting and maintaining the right temperature, it is messier and dangerous when compared to propane and bioethanol.
It also requires precautions in other to prevent out-of-control fires, however, you can choose to create an intense fire if you want to make use of wood as a source of fuel.
While the wood-burning fire is beneficial to homeowners, they are slightly high in maintenance. Talking about the regular purchase of wood, drying, and storing in a covered area and also, the attraction of insects is evitable.
b.Natural gas
If your yard has the capability to use a natural gas line, then you might want to get a natural gas fire pit, which is convenient and stress-free for users who use outdoor space more often since there is no replenishing of tanks.
Installing a permanent natural gas fire pit means users do not have to worry about powering the fire pit, but it requires professional installation for a safe connection which could be expensive.
This type of fuel source is a permanent fixture in your patio or backyard and it never runs out of fuel.
although it lacks portability with many fire pit options to choose from, there is definitely one that fits your patio perfectly.
c.Propane
Propane is the most commonly used fuel source for fire pits. It provides clean-burning flames which makes it suitable for use.
They operate with the help of a propane tank which is attached to the fire pit. The fire pits are then activated by the flip of a switch which allows proper control of the flame.
Using propane as a fuel source for fire pit, it is easy to contain the amount of flame emitted – which makes it safe, there is no need for refilling, and there is no clean up after use.
They are portable, convenient, and can also outperform other fuel sources.
Propane-fueled fire pits could run out at any time and are expensive when replenishing the tanks.
d.Charcoal
Charcoal is mainly used for a controlled heat that gives a small flame.
It is convenient, fast, and an easy method of fueling a fire pit.
e.Bioethanol
Bioethanol is the ideal and efficient fuel source because it does not emit smoke, ash, or ember.
They are biodegradable – produced from the fermentation of sugar which originates from plant products.
They can burn for a long period of time.
This clean-burning fuel source is highly efficient and safe to use.
f.Gel
The gel fueled fire pit is the type that does not emit smoke, odor, ash, or ember.
They are versatile and can be moved across the yard. They are convenient to sit
around.
They are the perfect source of fuel that gives ambiance to the patio or yard.
However, they don't give off much heat as other fuel source fire pits, and they sometimes become difficult to find in stores.
4.SAFETY TIPS FOR USING FIRE PITS
As safety is a very important factor when planning to set up a fire pit, one has to be cautious when it comes to dealing with fire.
The following are to be noted when setting up a fire pit;
It is ideal to place fire pits at least 10 feet away from structures.

Scrape grasses and needles within the diameter of 10 feet.
Fire pits are built downwind.
Fire pits should never sit directly on grass or decking but placed on a stone slab that extends beyond the parameter of the pit in other to protect the ground or decking.
Avoid the use of flammable liquid to ignite a fire or hot coals.
Ensure to have water nearby before setting up a fire pit.
Always wear a tightly-woven, short-sleeved garment while using a fire pit.
Never leave a fire pit unattended to.
Adults should always supervise kids and pets around fires.
It is important to have an extinguisher at reach always.
Ensure everyone has an idea of how to put out a fire in case of emergency.
Summary
Transforming your space with the addition of a fire pit will help create a good spot for gathering where family and friends can have meals, chat, and have casual hangouts.
You can get any fire pit of your choice, be it solid and rusty, elegant and portable, or could be the sleek fire pit, there is surely a fire pit design out there that suits your need.
So, when choosing a fire pit for your home, consider the shape, size, and style, and choose from the various options crafted from based on the material you want.