Best Outdoor Fountains for Home/Garden
Are you looking to add something interesting to your otherwise dull outdoor garden? You are just at the right place. Outdoor fountains are an efficient way to add beauty and class to your home or garden. The water sound has such an effect on the psychological system of humans that it instantly calms the mind and provides a relaxing effect. The garden of your home is supposed to be a space where you can relax and should mirror your sense of style and elegance.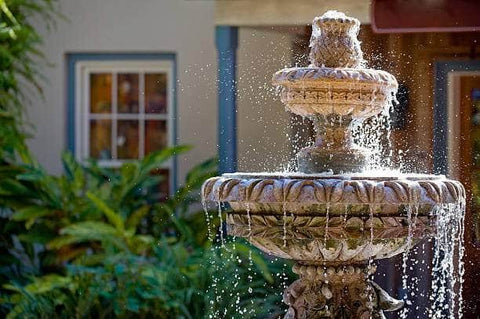 Figure 1: An Outdoor Fountain for Home
There is a spectacular range of outdoor fountains with different styles, colors, aesthetics, material, and budgets, so that it might get overwhelming. Selecting the right outdoor fountain for your home or garden can be difficult, so s to make it easier for you, we have listed down some of the best outdoor fountains we have for you to choose from.
Importance of outdoor fountains:
Some of the factors of crucial importance for having an outdoor fountain in your home are mentioned below.
Beautifies your outdoor space:
An outdoor fountain designed in a sound manner can be a treat to the sight. It automatically converts your uninteresting outdoor home space into an aesthetically pleasing area. The fountains vary in sizes, colors, styles, and price ranges, so you have plenty of options to choose from. Buying a suitable outdoor fountain considering your space and aesthetics, can change the whole game.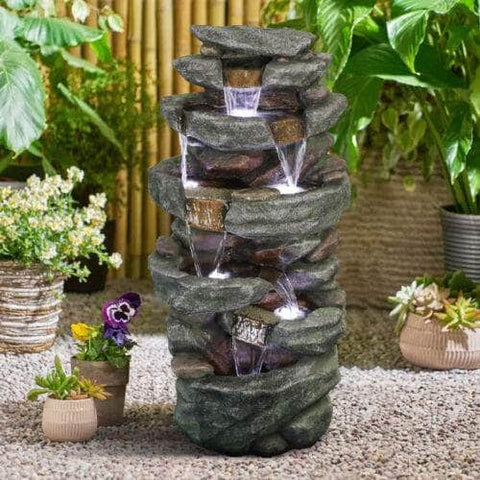 Figure 2: A Beautiful outdoor fountain beautifying the outdoor space
Reduces traffic noise:
Your home's backyard or front garden provides a soothing environment where you can chill and unwind with your family or even alone after a day of work. The city can make it challenging to sit outdoors without hearing distracting noises. Adding an outdoor fountain to your area can help you tackle this issue to a great extent. The water running sound will provide an effect of peace and serenity while concealing all the unwanted sounds behind the calming water sound.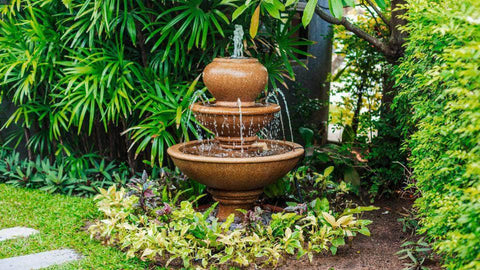 Figure 3: Water flow sound eliminates the city noise
Provides a Relaxing environment:
Outdoor fountains are chosen abundantly as they add tranquility to the outdoor space and calm the atmosphere. The water running sound is serene to help you appease your mind and body, as a plus point also enhancing the beauty of your yard. Plenty of other accessories can be added further to create an oasis-like experience. The water flowing releases negative ions, which help the soul calm and heal.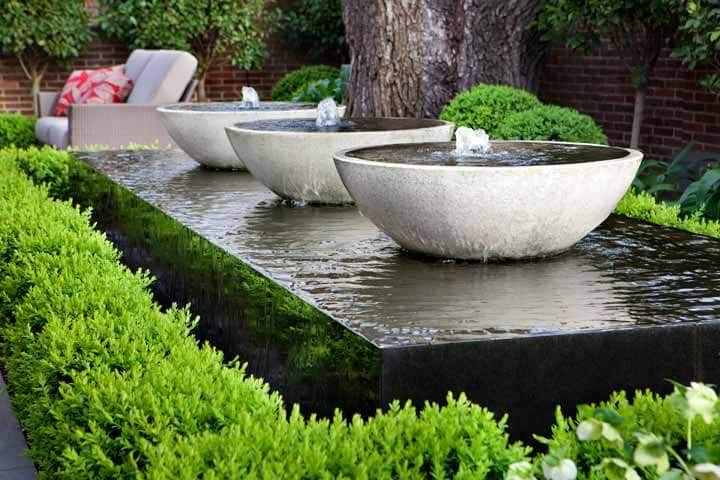 Figure 4: A serene addition to the outdoor garden of the home
Factors to consider while buying an outdoor fountain for your home or garden:
The outdoor fountain should be chosen keeping in mind the overall look of your home. The surrounding scenery plays a considerable role. Such as, a giant outdoor fountain should be selected if you have a vast open space, as maintenance also has to be in mind. The natural look of the yard should be set with the fountain you choose. If you are looking for the rush to be the focal point, you should opt for a more significant piece and style. Otherwise, something quieter and lighter should be appropriate, depending on the customer's requirements.
Water is a caustic substance in nature, and the fixtures that are used to carry the fountain should be able to survive extreme heat, stormy weather, as well as cold. As for durability, stone fountains are considered number one due to their sturdiness and robust nature. Fountains made out of stones are found in a variety of shapes, colors, designs, and sizes. However, an excellent choice can be fountains made of metal, glass, and other suitable type materials.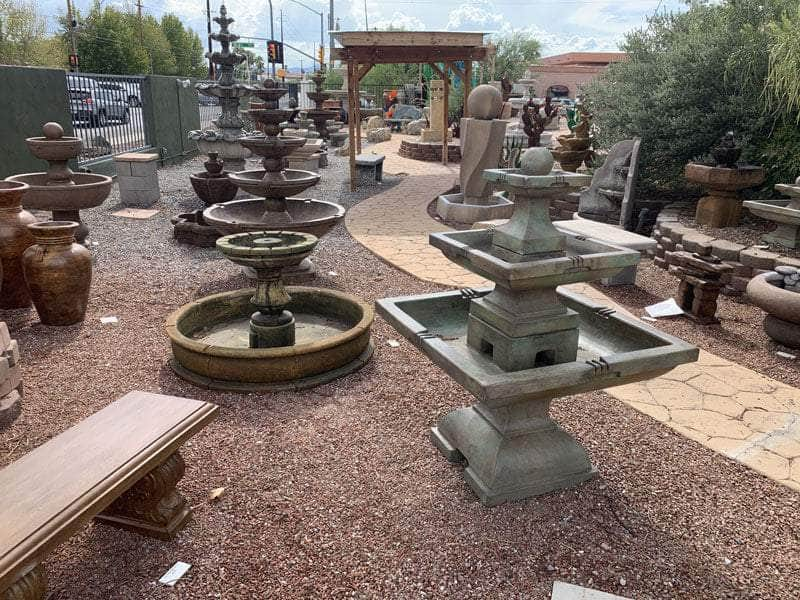 Figure 6: Outdoor fountains are made from different materials
How are you supplying water to your outdoor fountain? It can be through attaching a line to your household water supply pipeline to provide a steady and consistent flow to your outdoor fountain. Fountain pumps are also fondly used as they are a source of preserving water and electricity bills. The pumps require less water to keep the fountain running and reuse the water filled in the rush. Manual refilling is needed.
The water flowing out of the outdoor fountains requires a power supply to keep it running. Depending on your personal preference, you may choose to wire your fountains with your home's power supply system. However, solars are also very favorable as outdoor fountains power suppliers.
Figure 7: A power adopter for an outdoor fountain
The outdoor fountains are easy to clean and do not require much maintenance. The stone fountains are the most durable yet easy to clean, as they can be scrubbed a little and are as good as new. To keep the outdoor fountain working for a longer time, you would have to put in effort for it to look and serve well. Cleaning them from time to time is very important; otherwise, they can be no good.
Best Outdoor Fountains for your Home and Garden:
How do you know the best fountain for your outdoor space or home garden? There is no specific best outdoor fountain; it depends on your requirements and their fulfillment. Fountains are very easy to install and maintain and provide an elegant look in no time. Following are a few famous outdoor fountains at Ferrisland that will add beauty and elegance to your common outdoor space. Surround your fountains with lush flowers and fancy plants turning your outdoor place into a chic, fancy, relaxing place.
Old Fashioned Pump Barrel Fountain:
This old-fashioned pump barrel fountain is the eye-catcher as it gives trendy yet vintage vibes. The multitiered fountain has a rusty look of wood and metal, originally made from resin, making it durable. The water runs down from the pump to the wooden barrel. The little details add significant value to this otherwise simple design, creating a realistic metal and wooden look of the whole fountain. Water flow creates a soothing and meditative atmosphere in your outdoor environment. The pump is included in the fountain. All you need is to assemble it. The fountain finishes are planned and implemented in a way to look real and natural.
Figure 8: Old Fashioned Pump Barrel Fountain
Dancing Bear Water Fountain:
If you want to create a jungle-y, woodsy atmosphere in your outdoor yard at home, this dancing bear fountain is your ultimate option. We have this fountain made of resin to enhance the overall look of your yard. The sounds of water are soothing as they fall on rocks, along with the cute mother and baby bear statues attached. The lights installed in the outdoor fountain provide an enormous glow in your outdoor areas with low-voltage lights. The dancing bear fountain is low maintenance and does not require a lot of cleaning. Natural stones are crushed and hand cast with splendid quality resin. The fountain is self-sufficient and does not require any extra plumbing or accessories. All it needs is to fill up the water and plug it in. Our splendid dancing bear water fountain can be the focal point of your home and the ultimate decoration outdoors. The bear sculptures are made to seem real, and they give off welcoming vibes as the guests gather in your outdoor areas, accompanied by the soft sound of running water, which is all you need to add attraction to your outdoor gardens.
Figure 9: Dancing Bear Water Fountain
Buddha Zen Fountain:
A buddha Zen Statue fountain is thought to be a powerful element to keep around your home. The power of water and a buddha statue creates a peaceful environment in your gardens. The fountain is sculptured delicately out of polyresin, adding an extra appeal with the LED lights. You can upgrade any space by placing this fountain with a soft water-streaming sound and energy-efficient LED lights to lift the mood and create a vibe in the evening. The durable construction makes it easy to move around and stay as new as bought for a longer time.
Figure 10: A Buddha Zen Fountain
Solitude Lighthouse Water fountain:
Vintage yet classy, our solitude lighthouse water fountain adds a decorative touch to your yard. It can also be placed on a patio, creating a serene and soothing environment while complimenting your home or garden. The lighthouse's stones appear natural due to the detailing and colors. The fountains are weatherproof and corrosion-resistant as they are made of high-quality, durable resin. The plus of these very outdoor fountains is that it also has a light attached that illuminates your outdoor space beautifully when the sun goes down, taking all the attention. The flow of water through each floor gradually gives out calming vibes. The fountain comprises all the required accessories and parts to set it up. All you have to do is fill the fountain's pump, plug it in, and you are good to go!
Figure 12: A Solitude Lighthouse Water Fountain
5 Tier Rock Cascading Garden fountain:
The 5-tier rock cascading garden fountain is stylish to add to your home or garden. Sitting beside this fountain makes you feel like you are sitting near a mountain with streams of water flowing over it. When in reality, you will just be sitting in your backyard, relaxing. This fountain can be placed anywhere in your home, ie. Porch, outdoor yard, patio, etc. The gentle water flowing sounds enhance the atmosphere as they fall over the naturally looking grey stoned rock. The construction of this fountain is made up of heat-resistant, weather-resistant, anti-corrosion fiberglass and poly stone, which is durable and lasts for years as the 5-tier rock fountain is made up of resin construction and stone finishing is lightweight. The fountain can be moved and positioned anywhere without any hassle. LED lights in the fountain illuminate the rocks and add a peaceful ambiance with the sounds of a waterfall. Choosing this fountain will bring a touch of natural aspect and beauty to your home.
Figure 13: A 5-Tier Rock Cascading Garden Fountain
Green Feathered Peacock fountain:
The prettiest of all, this splendid outdoor fountain highlights the elegant green peacock with very detailed feathers. It is a very cozy addition to your outdoor spaces at home, beautifying the whole house. This green feathered peacock fountain gives contemporary yet modern vibes with soothing and meditating sounds to help your nerves calm and your body relax. It complements the home's outdoor spaces just enough to be adequate and is durable as it is made of high-quality resin. The fountains include the pump and adapter for handy assembly. All you have to do is fill the pump, plug in the adapter, and enjoy the classy and calming atmosphere. The LED lights enhance the beauty of this outdoor fountain, and as a result, it becomes a complete package for outdoor areas. You can place the fountain anywhere in your outdoor space or home garden. The green color of the peacock is the perfect companion to the plants and greenery in the outdoor areas of homes.
Figure 14: An elegant Green Feathered Peacock Outdoor Fountain
Conclusion
Adding a fountain to a garden or home can be as valuable as it looks beautiful. It can be another part of your outdoors or the center of attraction for anyone who comes by. A good water fountain completes the look of any outdoor space, especially homes with big yards.
At Ferryland, we have got numerous options for you to select from. There are fountains in different shapes, made of various materials, varying in size and price. You can look at our collection and choose whatever is feasible for you. Our highly competent team members look forward to dealing with their dear customers and satisfying all their concerns and requirements. Therefore, to make your money and outdoor space of good use, you must choose a suitable outdoor fountain and increase the value of your home.