How to Select a Potted Artificial Christmas Tree
Artificial christmas tree is an elegant and tidy alternative to a live tree. It doesn't need to be looked after like a living tree and will stay with you for many years. The durability of a faux Christmas tree makes it very important to choose wisely. You don't need to stick to a tree for years because you can get customized potted artificial trees each Christmas.
This comprehensive guide on how to select a potted artificial christmas tree will walk you through the process step by step, leaving no gaps for confusion.
Find a Perfect Spot
There are multiple artificial Christmas tree options available in the market that can make you overwhelm. The first step in narrowing down your options is to decide where you will be placing your christmas tree.
Pinpointing a single spot for the tree will give you a clear vision of what size or shape of tree you can consider.  Take a tour of the house and analyze possible locations. Is there enough room to keep a hefty tree or you will have to go for smaller options? You can also opt for a tabletop potted tree if you don't want to use any floor space.
The following tips will help you select the right spot for your new Christmas tree.
Your beautiful tree should not be located at a place where it can't be seen clearly. You might have to rearrange some furniture to ensure that nothing is blocking the view. Alternatively, you can select a table or any flat surface for a smaller tabletop tree.
Try to select a spot where the tree would be the center of attention. It is ideal to place the christmas tree in the center of a large space. If this is not feasible for you, choose a clear corner of the room.
Keep it away from Walkway
If your tree is placed just by the side of a door or in a narrow hallway, this can lead to accidents. You should put your tree at a reasonable distance from doorways or the normal walking passage.
Make sure there is plenty of space for the gifts around the tree.
Do not block the Sunlight
It is a bad idea to place a huge tree in front of a window. Your tree should be at a location where it doesn't occlude natural light.
Nobody wants to have a dark and cold room on the 25th of December.
Place it near an Electric Outlet
It is ideal to set up the Christmas tree near a power source. This eludes the hustle of using extension cords to light up the tree. It is dangerous to use the extension cords if there are young kids or babies in the house.
Artificial trees can also catch fire. Most artificial christmas trees are fire repellant but not fire-proof. It is imperative that you choose a location that is reasonably distant from heat sources like fireplace, candles and radiators.
Common Locations for a Christmas Tree
Displaying a beautifully decorated christmas tree in the foyer gives a beautiful visual to guests the moment they step foot in your house.
This is where you spend the most of your time. Having a christmas tree in the sitting room will allow you to spend quality time with your friends and family.
Having a delicious christmas dinner by the side of a well-decorated christmas tree makes a great christmas! Go for tabletop or slender Christmas trees if you plan on decorating this area.
A glowy Christmas tree will add to the beauty of your bedroom. You can place a flatback tree in a clear corner of your room or go for smaller table top options.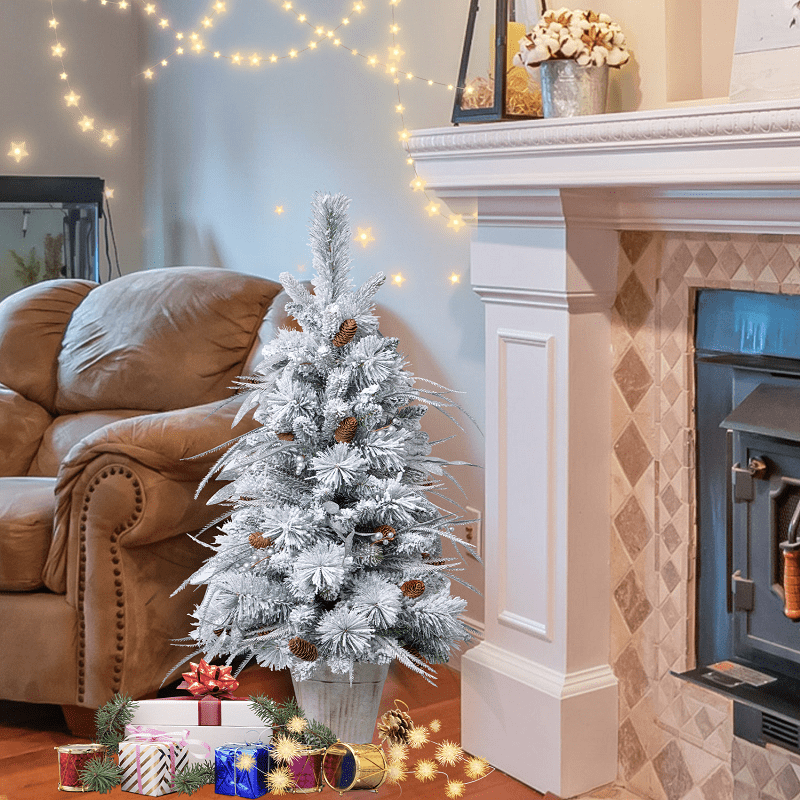 Measure the Chosen Space
You will need a step ladder and a measuring tape for this step. Measuring your space will give you a maximum height and width of the tree that you can afford to set up.
For Height: Measure the height of the ceiling using the measuring tape. Now subtract 6 inches from the height recorded. This is because the ideal distance between the top most part of the tree and the ceiling should be 6 inches. Otherwise, you will get destroy look of your room by making it congested and crowded.
If you wish to use a decorative tree topper, you should subtract 12 inches from the height of the ceiling. Most tree toppers are 6 inches in height or less.
Let's say the height of your ceiling is 9 feet, you can purchase an 81/2 foot high tree if you don't intend on using an angel topper. Otherwise, the maximum height of the tree for that location would be 8 feet.
For Width: Find the floor space of the chosen spot using your measuring tape. Subtract 12 inches from this number to get the maximum width of the tree. This is to make space for the gifts.
Select Tree Size
Now that you know the upper and lower limits for height and width of the christmas tree, its time to select a suitable size.
This size guide will make this decision super quick and easy.
6 feet or below

: We recommend that potted christmas trees falling in this range be placed in small rooms or table tops. You can get a cute 4 feet tree for your kid's room or a center table in the living room.
6 to 6.5 feet

: This range is for homes having low ceilings. Make sure that there is a 6 inch free space between the ceiling and the tree top.
7 to 7.5 feet:

A standard ceiling measures about 9 feet. This height range for a christmas tree is ideal for houses having a standard ceiling height.

8 to 12 feet:

This height range is only suitable for rooms with very high ceilings.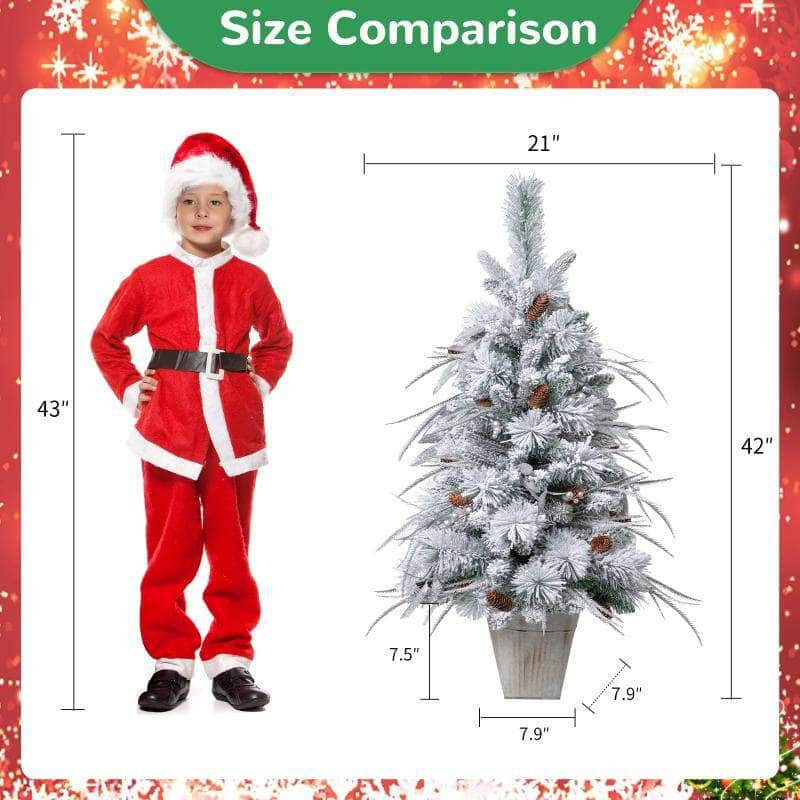 Select The Shape of Tree
It is important to base this decision on your available width space and personal preference to find the best tree type. Here are common shapes of artificial christmas trees.
Regular

: This tree resembles a real tree and has a lush profile. On average, it is about 60 inches wide.

Slim

: This one is a great option for less spacious houses. A slim tree width averages around 43 inches.

FlatBack

: This is perfect for people who like the appearance of a regular tree but do not have enough space for it. Average width of this type of tree is about 50 inches.

Sparse

: These trees mostly fall in the slim category. They are not very dense and showcase the stem in the middle. Sparse trees have large spaces between the branches as compared to a standard Slim tree. Most sparse trees are around 48 inches in width.

Wide:

This type of tree is great for spacious living rooms or a giant foyer. The average width is around 72 inches.
Finalize a Color
At this point, it is paramount that you have a color in mind. Potted faux trees come in a lot of wonderful colors. The spectrum ranges from natural looking trees that use different shades of green with a hint of brown to brightly colored monotone red trees. We offer a beautiful collection of potted christmas trees.
One of the benefits of sticking to the artificial tree as opposed to a real one is that there are various color options. You can choose a multi-colored faux tree or go with a modern white look. 
Branch Tips
This is probably the most important factor in selecting a perfect Christmas tree. There are three things to consider regarding branch tips:
The number of branch tips determines the tree's quality, fullness and price.
A fuller tree looks more realistic and has more room to hang decorations. If you are shopping for a potted Christmas tree online, the number of tips will give you an idea of how dense the tree is.
Tips of Christmas tree branches are divided into 2 types based on the manufacturing material.
PE (Polyethylene) tips: These are prepared in a mould to achieve a realistic look. These plastic tips are more expensive than the PVC ones because of their texture and appearance. PE tips are usually present on the ends of branches.

PVC tips: These are lighter and papery in appearance. PVC needles are soft and flexible and give a classic artificial appearance to the tree.

Ratio
Artificial Christmas trees come in different PE/PVC ratios. This ratio determines the level of realism of the tree.
A 70/30 PE to PVC ratio makes a very realistic tree. In such trees, the PVC needles are used on the inside of branches as a filler. The outer part consists of realistic PE tips.
Generally speaking, a tree has more than 65% PE needles features the highest level of realism.
If the proportion of PE needles is less than 65%, the tree will fall into a less realistic category.
A classic artificial tree consists of 100% PVC needles. This is great for people looking for a more man-made looking tree. All PVC trees are cost-effective and their needles do not deform or fade easily.

Choose Lighting Type
You can choose either a pre-lit or an unlit Christmas tree. Both have their own benefits and drawbacks.
Unlit Christmas Trees: These trees offer a clear canvas for you to beautify with gorgeous lights and decoratives. You can choose a preferred bulb size and light colors. Unlit Christmas trees are fun because you can light them in a different way every year.
Pre-lit Trees: If you are not a fan of hanging light strings yourself, you can buy a pre-lit tree. Even with pre-lit trees, there is a lot of freedom to customize your tree. Let your kids decide which assorted decorations and tree toppers you would use to make the tree your own.
 We have both pre-lit and unlit potted Christmas trees for you to choose from.
Choose a Tree Accent
Depending upon the decor of your house, you can choose between a flocked, unflocked or a frosted tree.
What is a Flocked Christmas Tree?
Flocking refers to the process of giving a snow-covered look to the tree. This is done by applying a white powdery mixture (flocking powder) to the branches.
A Flocked tree has a snowy texture and gives a beautiful winter vibe.
What is a Frosted Christmas Tree?
The branches of frosted trees are lightly covered by artificial snow. The main difference between a flocked and frosted tree is in the amount of artificial snow.
Frosted tree is a great option if you would like a freshly fallen snow look.
What is an Unflocked Tree?
This is your standard Christmas tree with no flocking powder on the branches. If you choose to buy an unflocked tree but wish to have a flocked look later. You can follow simple diy steps to flock your Christmas tree yourself. 
We have some spectacular options of pre-flocked and unflocked potted Christmas trees.
Other Things to Consider
A Christmas tree is incomplete without tinsels, ornaments and garland. In order to decorate your tree whichever way you want, make sure that you choose one with sturdy branches. The tips and branches of your Christmas tree should be stable enough to bear the weight of hangings and light strings.
Another important factor to consider before purchasing a Christmas tree is your budget. A preflocked, pre-lit and lush Christmas tree would be the most expensive option. If you are on a budget, you can go for trees smaller in size, less dense, unflocked and unlit. Artificial Christmas trees made only with PVC needles are also a very cost-effective option.
That being said, an artificial Christmas tree has an average life span of 10 years. So, it is very important to choose one that suits your style and requirements.